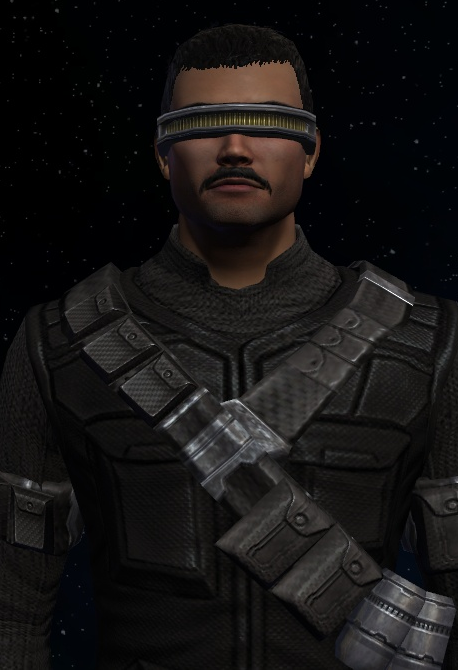 Name: Mateo Galifar Corestar
Race: Human
Gender: Male
Age: 28
Height: 5' 6 1/2"
Birth Date: August 26, 2380.
Birth Place: Earth
Current Occupation: Freighter Captain, Honorary Starfleet Commander in the 12th Fleet.
Past Occupations: Starfleet Commander in Starfleet Operations.
Career record:
Mateo Corestar started his Starfleet career on star date 89678.78 and was accepted in to Starfleet Operations. Positioned primarily on the front lines, this young Starfleet tactical officer was able to rise through the ranks quickly due to battlefield promotions. Upon becoming a Lt. Commander he was granted the privilege of captaining the U.S.S. Hammerhead N.X.-93348. Later on and after several skirmishes with the Borg, Corestar was called in to aid in the liberation of the Defera System from the Borg. He served 5 tours of duty in the battle for Defera, and received a field promotion to the rank of commander. Shortly after his 5th tour and his promotion, he resigned from Starfleet, vowing to not become a captain because of someones death. Mateo Corestar currently is captain of the U.S.S. Runner NCC-93842, a Tuffli class freighter. He has been reported aiding the 12th Fleet by bringing much needed supplies to the front lines, even in the mist of battle. It has also been reported that he has been defending other freighters from Klingon raiding incursions into the Sirius Block, but there is not enough evidence to support this claim, and the fact that the reports also show that it was a Starfleet heavy escort carrier that protected these freighters. Which Mr. Corestar does not have access to[?].
Medical Notes: During 5th tour of duty, in defense of Defera Prime from the Borg, he was injected with Borg nanites and was not assimilated. The nanites have remained inactive except for the occasional replication. No assimilation has occurred to this day.
[True in game story, had the debuff to be assimilated but event ended, debuff stayed on me till server maintenance.]
_________________
=/\= ==================================== =/\=
Commander Galifar
Medical Division : Delta Squadron
United Federation of Planets : 12th Fleet
=/\= ==================================== =/\=
[Mateo's Biography]
[Mathais Biography]
[K'rodeks Biography]
[Salok's Biography]