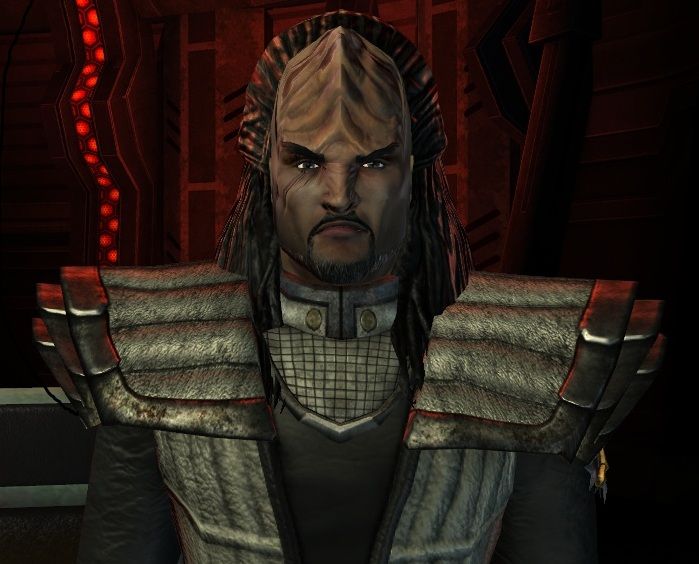 Name: K'rodek, Son of Argrim.
Race: Klingon
Gender: Male
Age: 30
Date of Birth: 2379
Place Of Birth: The Martuk System in the Mylasa Sector
Parents: Argrim of the house of Argrim [Father]
Career: Body Guard, Engineer on the I.K.S. Asvra.
Rank: Bekk
Biography:
K'rodek was birthed to a house of settlers in the Martuk system, a newly acquired system of the Klingon Empire in Romulan space. When K'rodek was 14, the Romulans came back to take over the Martuk system, the cowards never showed their faces. They had decided instead to do and orbital bombardment and wipe the Klingons off the face of the planet. As fate would have it, K'rodek was out hunting with some of the other settlers sons and daughters when their village was destroyed. The hunters ran and hid in caves they had found, waiting for the bombardment to end.
It was months before a Klingon search party arrived and took the survivors home to Qo'noS. Once there they all were appraised for jobs. K'rodek was taken into the House of Rodon [A house that had no male heir and the lady of the house had been granted special dispensation] and trained to be a warrior. K'rodek was never seen as part of the house, he was just some stray they had taken off the street. It was most likely, because of this view most of the warriors had of him, that the lady of the house may have decided to make him into her personal body guard. He had no idea of her houses internal conflicts and the rumor of another house trying to take over hers, so she took the chance and intrusted him with her safety when he was older.
His service to her was near flawless. The few assassination attempts that did come he was able to fend off with only taking some wounds. The scars on his face are from a Grons attempt to bite his head off, it serves as a constant reminder to him about underestimating your foes in combat. After 10 years of service he was honorably discharged from the House of Rodon when the lady of the house decided to remarry into the House of Mo'rindak. The combined houses almost had enough power to get a seat in the Klingon High Council. K'rodek believes that this was a planned move on the House of Mo'rindaks part when there assassination attempts failed but has no proof to support this and as long as no harm comes to Lady Rodon he will let things be.
After his discharge, K'rodek decided to join the academy and learn about the ships he had been on with Lady Rodon and her travels. His years spent at the academy were focused on two areas of star ship workings [engineering and tactical systems in order to expand his knowledge if he should be hired again as a body guard and has to serve on a ship]. Now with his training complete he is setting out on his own to earn his own fortune and perhaps one day raise his own house.
For his current assignment and adventures, you can read them here in the
I.K.S. Asvra Logs
.
_________________
=/\= ==================================== =/\=
Commander Galifar
Medical Division : Delta Squadron
United Federation of Planets : 12th Fleet
=/\= ==================================== =/\=
[Mateo's Biography]
[Mathais Biography]
[K'rodeks Biography]
[Salok's Biography]