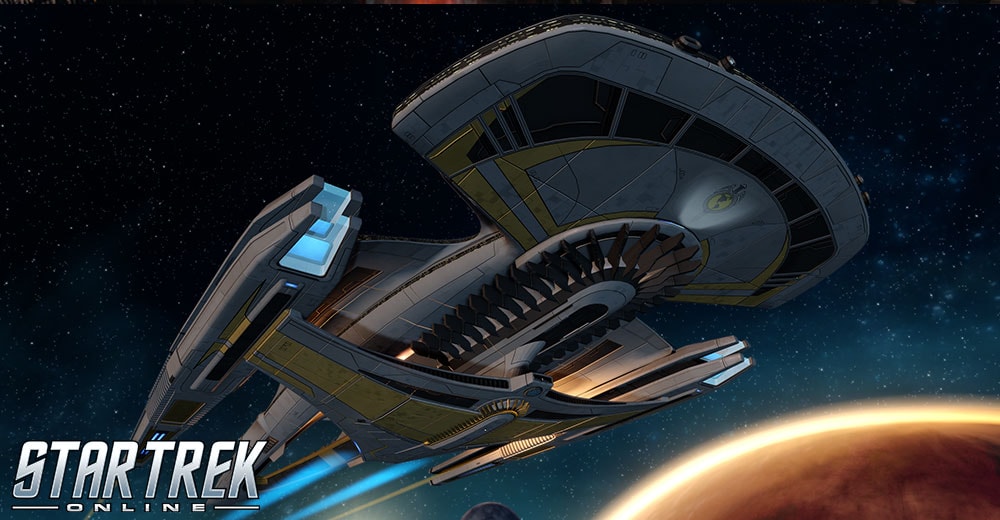 The current run of the Infinity Lock Box will soon be updated with the addition of an all-new Starship!
Starting on June 30th, 2022, players on PC will have the chance to obtain and captain the Terran Acheron Dreadnought Carrier (T6). This intimidating modern refit of the existing Styx-class has appeared as the flagship of the Terran Emperor in the current ongoing story episodes. Claim it now for your own use and turn the tides of conflict against the Mirror Universe before it is too late.
Continue reading further on for the full details on this new starship offering!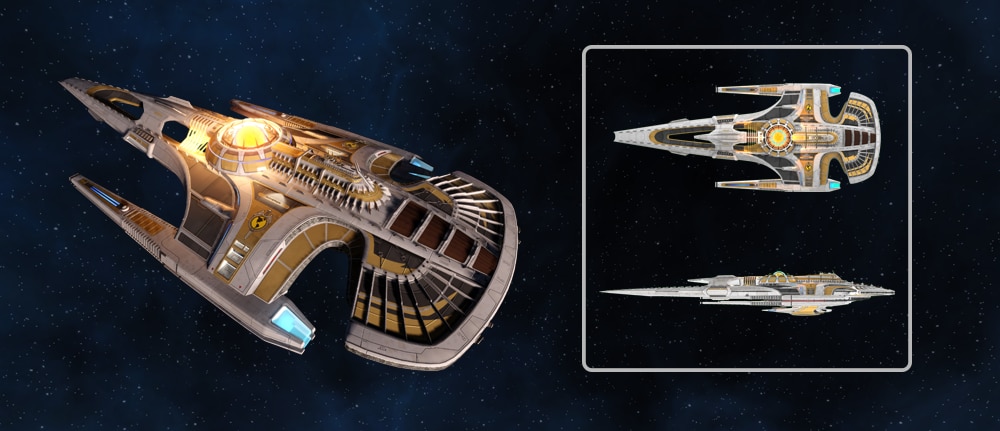 Terran Acheron Dreadnought Carrier [T6]
The modern flagship of the Terran Emperor is a dreadful sight to behold. Building upon the already-imposing framework of its predecessor - the Styx-class Dreadnought Cruiser - this modern refit has been further enhanced with systems capable of manipulating the local space-time continuum, in an attempt to emulate the abilities of the Emperor himself. With these deadly tools in its arsenal, it is no surprise that the Acheron strikes fear and hopelessness into enemies of the Empire whenever it appears in orbit.
This ship features a Commander Tactical / Temporal Operative Bridge Officer specialist seat, and a Lt. Commander Universal / Temporal Operative Bridge Officer specialist seat.
Ship Details:
Admiralty Ship Stats:
Eng: 41
Sci: 21
Tac: 64
Special: +6 TAC per Any Ship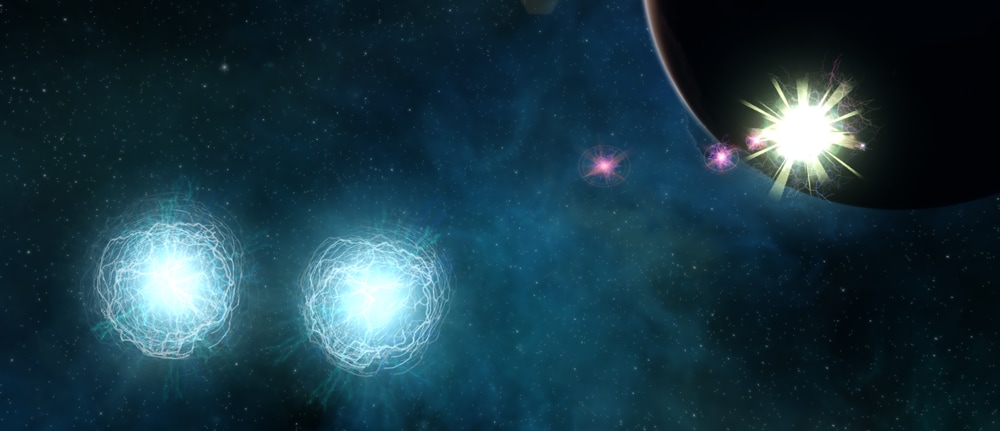 Console – Universal – Temporal MIRV Launcher
The Terran Empire is nothing if not inventive with its warfare. Its ability to generate cross-dimensional portals for travel or offense have been combined within this specialized warhead to create a temporal anomaly that uses its own probability-clones to inflict damage on their enemies. Each warhead will approach a foe and then lock itself in local space-time before generating micro-anomalies that draw in other versions of itself from nearby multiversal probabilities, and launching those additional projectiles at nearby foes. While the targeting can be erratic, the explosive yields more than make up for it. Each foe impacted by the original or its duplicates suffers a radiation explosion, which will also slow down their temporal footprint, reducing their speed, turn rate, and weapon firing cycle speeds.
This console additionally provides a passive bonus to Turn Rate (only while at Full Impulse) and a Cooldown Reduction for all Universal Consoles. This console may be equipped on any ship in any console slot.
This console mod may be used on any starship, in any console slot. Only one of these consoles may be equipped on a ship at a time.
Launch up to 3 Temporal MIRV Projectiles (1 per Foe)
After nearing Foes, MIRV will stop and create duplicate projectiles once per 2 sec for up to 12 sec
After 12 sec, original MIRV will continue toward a Foe
Each projectile (original or duplicate) deals Heavy Radiation Damage and Reduces Flight Speed, Turn Rate, and Weapon Firing Cycle Speeds of all foes within 1km of impact site
Slowing effect stacks up to 5 times
Starship Trait – Gravitic Entanglement
With this trait slotted, foes hit by your Energy Weapons will attract one another at random while you are under the effects of Beam: Fire at Will or Cannon: Scatter Volley. The gravitic attraction will target a Foe up to 5km away, choosing farther away targets first.. If the only valid targets are in close proximity, the gravitational resonance will cause a small kinetic explosion instead of pulling the ships toward one another. If an enemy ship causes one of these explosions, it cannot do so again for several seconds.
While Beam: Fire at Will or Cannon: Scatter Volley are active, Foes hit by your Energy Weapons are pulled together if within 5km of each other
If attracted to another Foe that is within 0.5km, cause Minor Kinetic Damage instead of being pulled
This explosion may only occur once per 5 sec, per target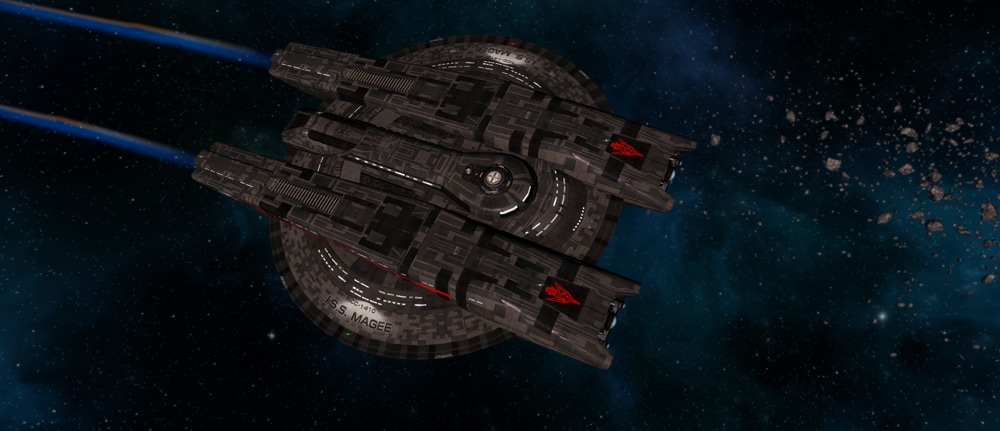 Hangar Pets – Terran Empire Frigates
These fighter pets are unlocked in their stores listed below as long as you own this ship, or the Styx-class Dreadnought Cruiser. Once unlocked, these hangar items may only be equipped on these two ships.
Terran Empire Frigates Availability
Normal / Rare = Ship Equipment Stores (Energy Credits)
Advanced / Very Rare = Dilithium Store
Elite / Ultrarare = Fleet Requisition Stores
Terran Empire Frigates Capabilities
Weapons:
2x Resilience-Linked Phaser Beam Array (Fore)
1x Resilience-Linked Phaser Dual Beam Bank (Fore)
1x Quantum Torpedo Launcher (Fore)
1x Resilience-Linked Phaser Beam Array (Aft)
Abilities:
Normal:
Advanced:
Elite:
_________________
Capt. JJJH Schimdt
Engineering Division Alpha Team
UFP 12th Fleet
USS Lusitania NCC-93015 Nebula Class
Patrolling
Infected/Cleared, Cure/Cleared, Kithomer Accord/Cleared, Terradome/Cleared
Foundry FED: Player Concept Housing*, Great Raid (part 1), Training Ground 2.0, Ultimate Deathmatch, Redshirt Zombie, All Hallows Eve

*Down for Repairs