---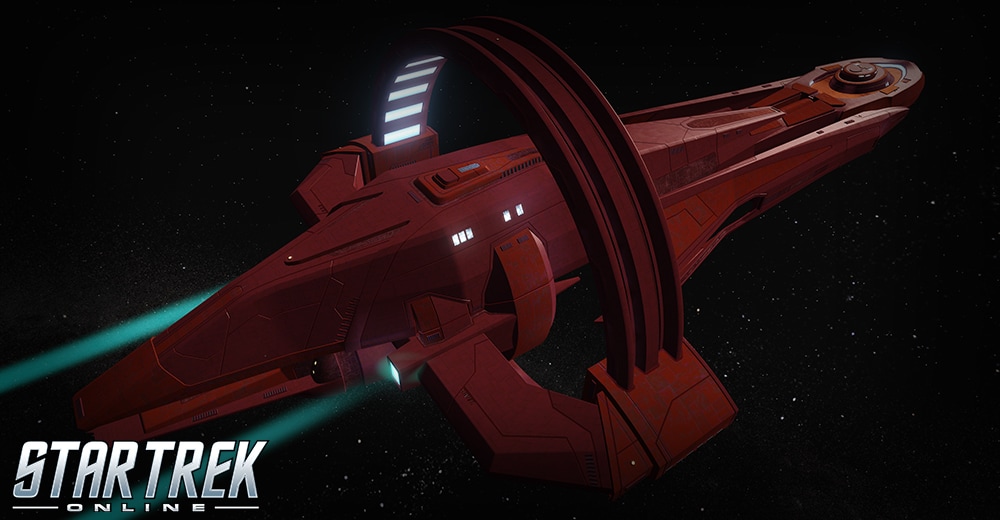 From June 7th until June 28th on PC, we will be running a promotion that will provide an additional bonus when opening newly-purchased Research and Development Packs, or Duty Officer Packs.

** Promotion dates for Console platforms will be announced at a later date.

During this promotion, when you purchase a participating R&D or Duty Officer Pack from the Z-Store and open it, you will receive either 10 Lobi Crystals or a Special Requisition Choice Pack - Tier 6 Promotional Ship Choice Pack in addition to the normal contents of whichever Pack was opened.

Additional details about the participating Packs will be included at the end of this announcement.

We are excited to announce a brand new addition to the impressive list of Tier 6 Starships that are included in this Promotional Ship Pack: the Sh'hval Temporal Science Spearhead! This is the dreadnought-sized support vessel seen coming to the rescue of the U.S.S. Cerritos in the Season 2 finale episode of Star Trek: Lower Decks. Thanks to the ingenuity of one of its own "lower decks" personnel, this Vulcan vessel has cemented its place as a valuable ally, and a fan favorite among many viewers.

Continue reading further on for the full details on this new starship offering!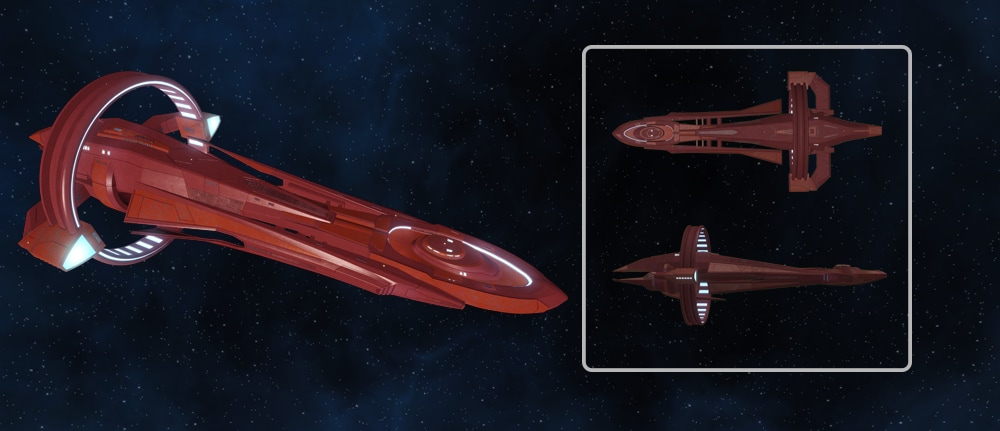 Sh'vhal Temporal Science Spearhead [T6]
Although the Vulcan people are not in the practice of building starships for the purpose of waging war, it cannot be denied the efficiency with which even their most science-focused vessels can fill such a role when the situation calls for it. The Sh'vhal-class supplements its impressive scientific surveying and scanning capabilities with redundant cross-linked systems that can quickly reroute power and priorities to defensive countermeasures when necessary, including famously resilient and regenerative shield arrays.

This ship features a Commander Science / Temporal Operative Bridge Officer specialist seat, and a Lt. Commander Universal / Command Bridge Officer specialist seat.

Ship Details:

Admiralty Ship Stats:
Eng: 24
Sci: 67
Tac: 35
Special: +10 TAC per EngShip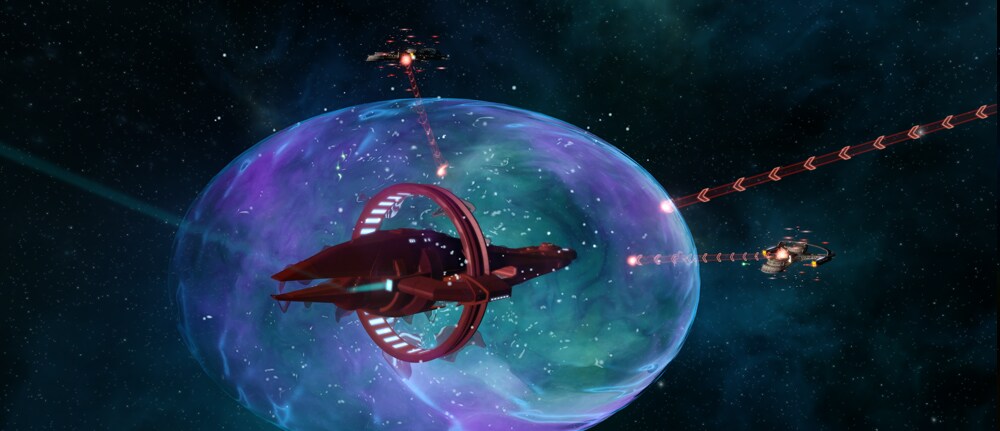 Console – Universal – Regenerative Shield Amplifier
Vulcan ships are known to uncharacteristically jump headlong into conflict quite willingly. Perhaps fear of their ship's destruction would be too emotional, or illogical. Perhaps it is simply a matter of the needs of the many outweighing their own. Regardless of their motivation, the Vulcan Science Directorate has authorized distribution of technology built to wrest control of a dangerous situation, redirecting enemy fire toward one's own vessel in an effort to lessen the burden and risk on other allied vessels. While active, the shields of the ship will rapidly regenerate and automatically redistribute, while additional subsystem power is directed to the shields to render additional benefits.

This console additionally provides a passive bonus to Shield Subsystem Power, Starship Shield Restoration and Starship Shield Regeneration. This console may be equipped on any ship in any console slot.

This console mod may be used on any starship, in any console slot. Only one of these consoles may be equipped on a ship at a time.

Min Range: 2.5km
Max Range: 20km


Teleport in Front of Target
5 Nearest Allies gain Untargetable/Unkillable for 2 sec
Taunt up to 5 Foes within 10km for 15 sec
To Self for 15 sec:
Massive Shield Regeneration each sec
Automatically Redistribute Shield Facings
Shield Subsystem Power set to 150

Starship Trait – Totally Lost All Control
While your ship is above 80% Shield Capacity, activating a Shield Healing Bridge Officer Ability or Captain Ability will redirect a portion of the expended restorative energy and temporarily overclock your starship weapons, granting them a significant boost to both Critical Chance and Critical Severity for a few seconds. This effect can only be triggered once every several seconds.

While above 80% Max Shields, activating a Shield Healing Boff Ability or Captain Ability grants to self:
+100% Critical Hit Chance with Weapons for 4 sec
+200 Critical Severity Rating with Weapons for 4 sec
Once Triggered, will not trigger again for 20 sec



Infinity Update


The player fortunate enough to win this ship pack will be presented with a choice of claiming a package containing this exciting new starship, or any one of the following ships:

*snip* bunch of pics and crap that i'm not doing *snip*

Note: Only Packs purchased during this promotion will offer the chance to win the Special Requisition Choice Pack - Tier 6 Promotional Ship Choice Pack. Packs purchased before or after the event will not offer bonus Lobi or the Special Requisition Choice Pack - Tier 6 Promotional Ship Choice Pack. Packs purchased during the event, but opened after the event ends, will still benefit from this promotion's bonus rewards.

Packs participating in this Promotion will include all of the following:


Infinity Promotion R&D Pack
Infinity Promotion R&D Pack Bundle (4)
Delta Alliance Duty Officer Pack
Fleet Support Duty Officer Pack
Gamma Quadrant Duty Officer Pack
Romulan Survivor Duty Officer Pack

Details of the Infinity Promotion R&D Pack:
These packs feature a myriad of materials to give you a head start with our latest Crafting System update. With numerous Crafting Materials (ranging in rarity from Common to Very Rare), R&D Components galore, and a variety of R&D Catalysts, these packs offer tons of opportunities to start crafting with a bang!

The C-Store features both single packs and bundles of four, so Captains can buy multiple packs at a discount.

Infinity Promotion R&D Pack – 300 Zen


Infinity Promotion R&D Pack Bundle (4) – 1000 Zen

This pack includes:
4 Research and Development Packs, each with contents listed above
(You will receive 4 separate packs when making this one purchase, NOT 1 pack that unpacks 4)

Details of the Delta Alliance Duty Officer Pack:
Defend the galaxy against the Iconian threat with Delta Quadrant support! The Delta Alliance Duty Officer Pack includes many officers with new Active Duty Powers:



Energy Weapons Officer: Chance to gain a Critical Severity buff on firing Energy Weapons
Energy Weapons Officer: Chance to gain a Critical Chance buff on firing Energy Weapons
Projectile Weapons Officer: Chance to gain a Critical Severity buff on firing Projectile Weapons
Projectile Weapons Officer: Chance to gain a Critical Chance buff on firing Projectile Weapons
Astrometrics Specialist: Chance for Hazard Emitters to apply an additional hull heal to the target after 15 seconds, based on Hazard Emitters potency
Conn Officer: Chance for Attack Pattern Omega to apply a lesser version to your team
Fabrication Engineer: Chance for Transfer Shield Strength to apply an Auxiliary Power buff to self
Matter-Antimatter Specialist: Chance for Directed Energy Modulation to apply an Accuracy buff to your team
Assault Squad Officer: Chance to gain a Critical Severity buff on firing Ranged weapons
Assault Squad Officer: Chance to gain a Critical Chance buff on firing Ranged weapons
Quartermaster: Chance for Fire on my Mark to Expose the target
Biologist: Chance for Vascular Regenerator to apply an additional heal to the target after 10 seconds




Each Delta Alliance Duty Officer Pack will include:



4 Common or Better Duty Officers
3 Uncommon or Better Duty Officers
2 Rare or Better Duty Officer
A Bonus Item!


Bonus Item will be ONE of the following:

A Stack of Gamma Quadrant Commodities
A Stack of Embassy, Dilithium Mine or Spire Provisions
1 of 3 new Starship Trait unlocks:
Starship Trait: Attack Pattern Delta Prime
Starship Trait: Point Defense Protocols
Starship Trait: Scramble Fighters

Details of the Fleet Support Duty Officer Pack:
Explore the galaxy and find new Duty Officers for your crew! The Fleet Support Duty Officer Pack includes bonus items, in addition to many officers with new Active Duty Powers.



New Active Roster Abilities include:




Each Fleet Support Duty Officer Pack will include:

4 Common or Better Duty Officers
3 Uncommon or Better Duty Officer
2 Rare or Better Duty Officer
A Bonus Item!


Bonus Item will be ONE of the following:

Stack of Gamma Quadrant commodities
A Stack of Embassy, Dilithium Mine or Spire Provisions
A set of 4 Fleet Modules

Details of the Gamma Quadrant Duty Officer Pack:
From the deepest unexplored regions beyond the Bajoran Wormhole, brave officers from the Gamma Quadrant are here to join your crew! The Gamma Quadrant Duty Officer Pack includes bonus items, in addition to many officers with hard-to-find unique Traits.



Unique Traits include:

All Vorta have "Telekinesis"
All Jem'Hadar have "Shroud"
Bajorans, Ferasans, and Cardassians may have "Resolve"


Each Gamma Quadrant Duty Officer Pack will include:

4 Common or Better Duty Officers
3 Uncommon or Better Duty Officer
2 Rare or Better Duty Officer
A Bonus Item!


Bonus Item will be ONE of the following:

Stack of Gamma Quadrant commodities
A Stack of Embassy, Dilithium Mine or Spire Provisions
Tuffli Class Freighter

Details of the Romulan Survivor Duty Officer Pack:
Explore the galaxy and find new Duty Officers for your crew! The Romulan Survivor Duty Officer Pack includes bonus items, in addition to many officers with new Active Duty Powers.



New Active Roster Abilities include:



Each Romulan Survivor Duty Officer Pack will include:

4 Common or Better Duty Officers
3 Uncommon or Better Duty Officer
2 Rare or Better Duty Officer
A Bonus Item!

Bonus Item will be ONE of the following:

A Romulan Republic Duty Officer Exchange commission
Stack of Gamma Quadrant commodities
A Stack of Embassy, Dilithium Mine or Spire Provisions
A Suliban Cell Ship Pack


Jeremy "BorticusCryptic" Randall
Senior Systems Designer
Star Trek Online