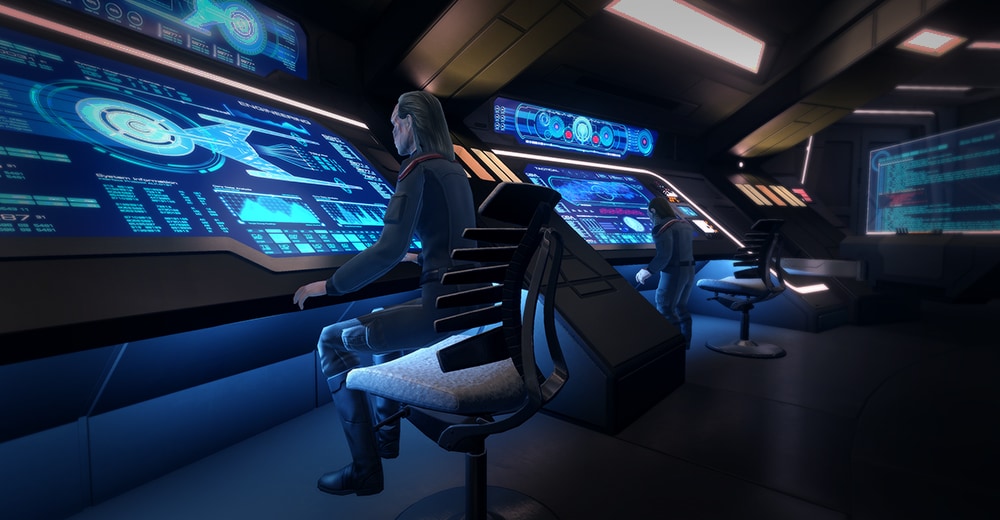 EV Suit Updates:
All Captains and Bridge Officers now have a suit specifically designed for equipping an Environmental Protection Suit (aka EV Suit).
This new Slot will be the only place that EV Suits may be equipped, so we have removed all existing suits from Captains that had them equipped in their Body Armor slot.
Captains may manually switch between which of these two slots are active at any time.
While one is active, all stats, passives, set bonuses, and other effects from the other equipped item will be suppressed. (They are mutually exclusive.)
When entering a hazardous environment where an EV Suit would be required, Captains and Bridge Officers will now automatically swap to the item in their EV Suit Slot, disabling their Body Armor.
While within such an area, the EV Suit Slot cannot be manually de-activated.
Captains that do not have an EV Suit equipped in their EV Suit Slot will be provided with a basic suit that provides protection, but no armor-related stats or other bonuses.
While there is an item equipped in the EV Suit Slot, and it is active (whether manually or automatically), Captains will be able to Toggle On/Off their Headlamps and other suit lights using a new ability that will be provided.
Lights attached to Bridge Officer EV Suits, and to the Default EV Suit, cannot be manually deactivated.
Mission objectives pertaining to picking up and equipping EV Suits have been updated across the game to facilitate the updated functionality, and tutorial text has also been updated.
Ship Damage Explosions have been revamped!
New damage state FX for hull damage at various health levels (75%, 50%, 25% & 10%).
New death FX sequences for most ships.
This does not affect ships with special death sequences, like Romulan ships.
Death FX sequence includes the initial death explosion upon reaching 0% hull, and the following few seconds before the warpcore breach.
General:
Resolved an issue that was causing auto-fire to not work properly while on ground maps.
Resolved an issue that was sometimes causing Traits to be removed from their slots.
Captains will need to re-save loadouts once traits have been reapplied.
Resolved an issue where Bridge Officers weren't properly using the secondary fire of the Portable Phaser Cannon.
Resolved an issue that was causing text to display outside of the Elite Captain Training window.
Overcharge Turret will no longer attempt to fire at enemy's blocked by walls or other obstructions.
Skeletons can no longer be destroyed by certain Kit Modules while immune to damage.
Ships:
The Mirror Galaxy Dreadnought has been updated and its mirror decal has been improved.
To see this update, ready your Mirror Galaxy Dreadnought, go to the ship customization interface and apply the proper ship template.
The Saber-class Escort has been remastered from scratch!
We have built a brand-new model for the Saber-class escort as it appeared in Star Trek: First Contact.
Ready your Escort or Fleet Escort and visit the ship customization interface and click on the "Saber" template to see all of the changes.
The Saber escort family also has access to legendary Starfleet starship materials as well.
_________________
Capt. JJJH Schimdt
Engineering Division Alpha Team
UFP 12th Fleet
USS Lusitania NCC-93015 Nebula Class
Patrolling
Infected/Cleared, Cure/Cleared, Kithomer Accord/Cleared, Terradome/Cleared
Foundry FED: Player Concept Housing*, Great Raid (part 1), Training Ground 2.0, Ultimate Deathmatch, Redshirt Zombie, All Hallows Eve

*Down for Repairs