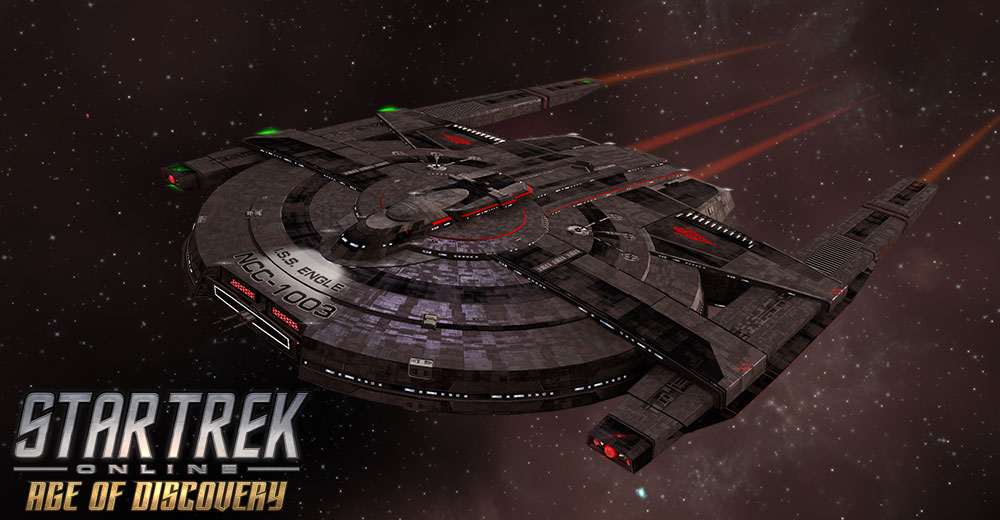 The Infinity Lock Box, containing prizes from nearly all previously-retired Lock Boxes, will be available again for an appearance beginning on PC on December 13th, 2018 and on Xbox One and PlayStation 4 on January 7th. During this time, enemies defeated on both Ground and Space maps will have a small chance of dropping one of these prize-filled packages, while the Swarm Lock Box will be retired.
For the first time ever, this run of the Infinity Lock Box will introduce a chance at receiving brand new starship, never-before-seen in Star Trek Online! Continue reading further on for the full details on this new offer!
Updated Prize Lists!
Along with the new starship and all of the prizes previously offered in previous appearances of the Infinity Lock Box, additional prizes originally seen in the Deep Space Nine Lock Box have been added to the drop tables! They now include all of the following:
Jem'Hadar Light Battlecruiser [T6]
Cross-Faction Consoles
Hostile Acquisition
DS9-themed Ground Traits
Maquis Guile
Serenity
Yielding Feint
DS9-themed Space Traits
Enlightened
Pseudo-Submission
Maquis Tactics
DS9 Universal Kit Modules
Miniature Spore Relay
Para Bellum
Choose Your Pain
Gamma Quadrant Research Assignments
DS9 Bridge Officers
Ferenginar Plasma Weapons
Includes a chance of winning a Ferengi Vanity Shield!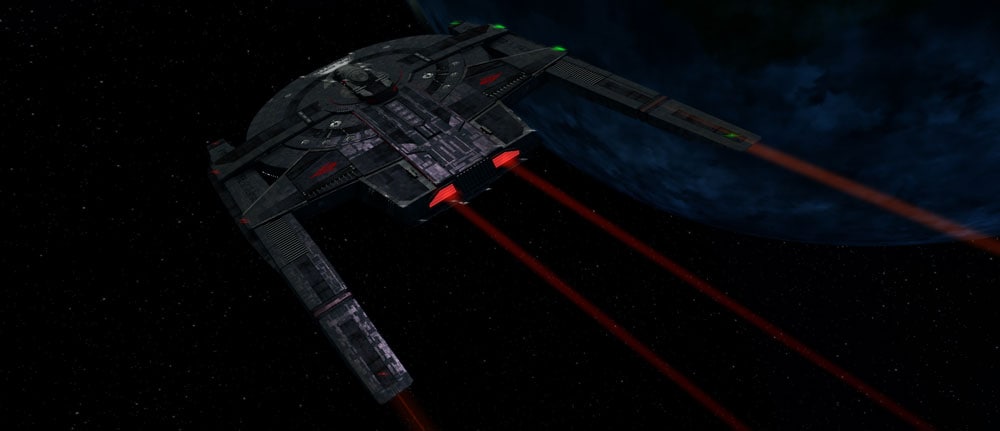 All new level-scaling Mirror Escort Carrier!
The Mirror Escort Carrier [T6] is an all-new starship being added to the Infinity Lock Box this run, as a choice players may select upon opening any "Infinity Prize Pack – T6 Ship." This new starship can be used as soon as you've completed the tutorial, and will scale with you as you level up all the way to 65!
We are very excited to be trying out something new and experimental, building on the success and reception we received when releasing the Walker-class Prototype Light Exploration Cruiser alongside our previous Age of Discovery update. We hope you share in our excitement as we continue exploring the concept of scaling starships, and see how this may shape the way you fly ships in the future of Star Trek Online at all levels.
If commissioned at low level, some of the ship's capabilities will temporarily be restricted, but will quickly and automatically unlock as you increase your Captain's level. At each Tier, this ship remains a strong competitor to other ships of the same tier (and outdoing them in many ways!), and keeps getting better as you continue to play Star Trek Online. The table below shows you the progression of Hull Strength, Weapon slots, and Console slots you will experience as you level up.
*theres a table graph here*
Note that although Starship Mastery may be earned immediately, unlocking the Starship Trait does not permit its use until at least level 50.
Without further ado, here are the complete ship details related to this experimental new starship!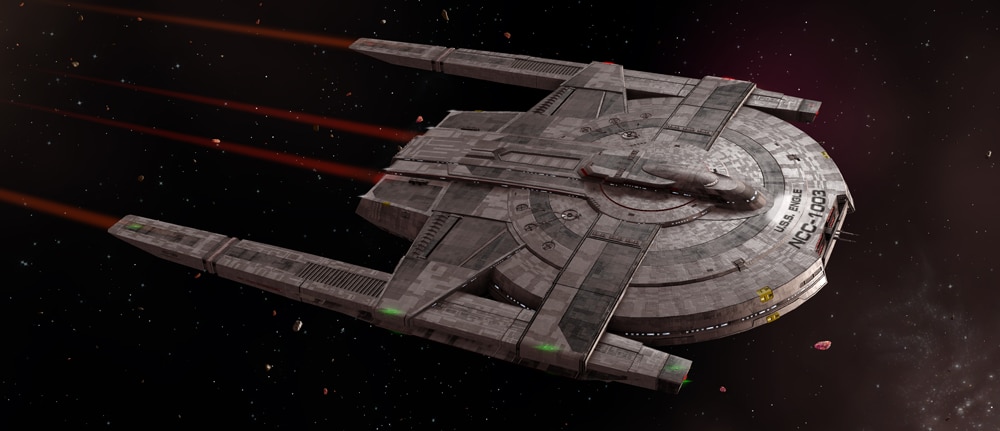 Mirror Escort Carrier [T6]
Incidents with the alternate dimension known as the "Mirror Universe" have resulted in some Terran Vessels being studied and retrofitted for service. The Engle-class Mirror Escort Carrier [T6] is retrofitted from a ship that crossed over from the 23rd century into present-day space. A fearsome Terran vessel, this starship's capabilities and integrated technologies emphasizes the Terran philosophy to not only crush the enemy, but make it hurt the entire way. Its design drives this point home, maximizing its offensive capabilities by augmenting the powerful weapons layout with debilitating scientific support abilities and a full hangar bay of fighters ready to unleash destruction on anyone or anything their captain points them at.
This starship features a Lieutenant Commander Temporal Operative Specialization seat, and a Lieutenant Intelligence Specialization seat.
This starship can be used from any level, upon completion of the tutorial experience. As you level up, this ship gains additional hull, weapon slots, and console slots.
Ship Details:
Admiralty Ship Details:
ENG: 22
SCI: 47
TAC: 57
SPECIAL: +10 TAC per SciShip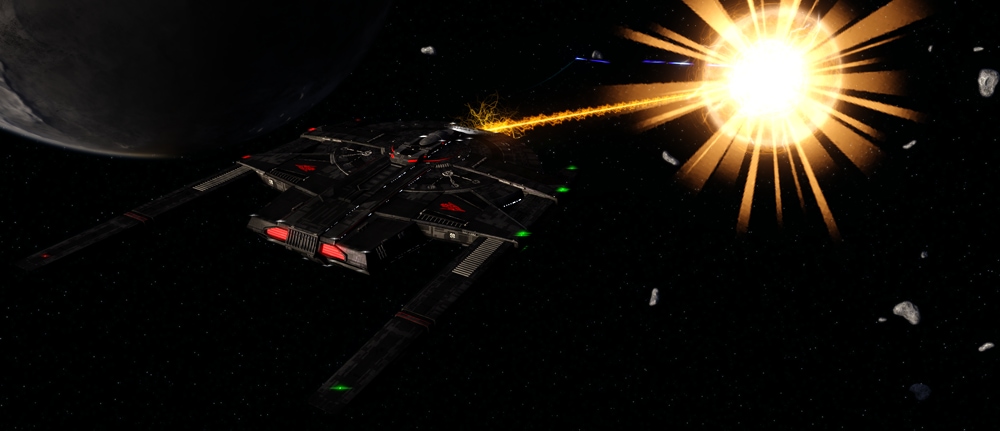 Console – Universal – Cascading Subatomic Disruptions
Activating this console intensely damages local subatomic fields for a short duration. The energy released from this process seeks out and significantly harms nearby power sources - usually starships - dealing significant electrical damage as it cascades outwards. As the subatomic disruptions leap from target to target, they leave behind areas temporarily weakened at the micron scale, making these ships temporarily more vulnerable to incoming damage.
This console provides a passive boost to Exotic Damage and Auxiliary Power. It can be equipped in any console slot on any ship. You may only equip one of these consoles.
Superior Area Denial (Starship Trait)
While this trait is slotted, activating Beams: Fire at Will or Cannons: Scatter Volley causes your weapons to debuff foe's armor resistance for a short duration, as well as activating Fire at Will: I and Cannons: Scatter Volley I on your hangar pets.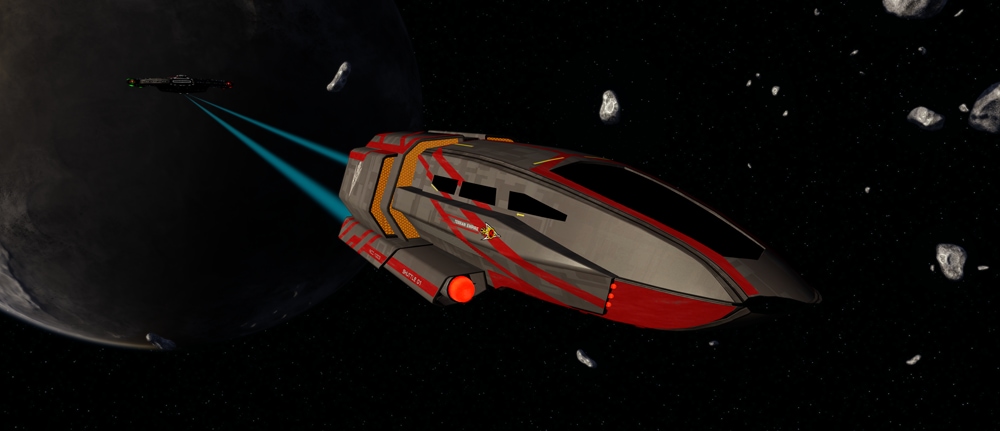 Hangar Pets: Mirror Universe Shuttlecraft
This starship comes equipped with a Hangar Bay of Mirror Universe Shuttlecraft. Owning this ship will unlock the purchase of other Mirror Universe Shuttlecraft, powerful fighter pets that can be equipped on any starship with a Hangar Bay.
Mirror Universe Shuttlecraft
Advanced Mirror Universe Shuttlecraft
Elite Mirror Universe Shuttlecraft
Klingon Defense Force Alternatives
Since the Engle-class Mirror Universe Escort Carrier [T6] is only available for Federation captains (and their allies), those allied with the Klingon Defense Force will be given alternative access to the Console, Starship Trait, and Experimental Weapon.
The following options will only be visible to KDF captains, and their allies:
Cascading Subatomic Disruptions (Universal Console): Added to the Infinity Lock Box as an additional choice within "Infinity Prize Pack: Cross-Faction and Salvaged Console" boxes.
Superior Area Denial (Starship Trait): Added to the Infinity Lock Box as an additional choice within "Infinity Prize Pack: Starship Trait" boxes.
Graviton Implosion Projector (Experimental Weapon): Added to the Lobi Store, found within the Space Equipment section. May be purchased for 200 Lobi Crystals.
Vanity Shields
Click the button below to see the ship with all of its vanity shield options.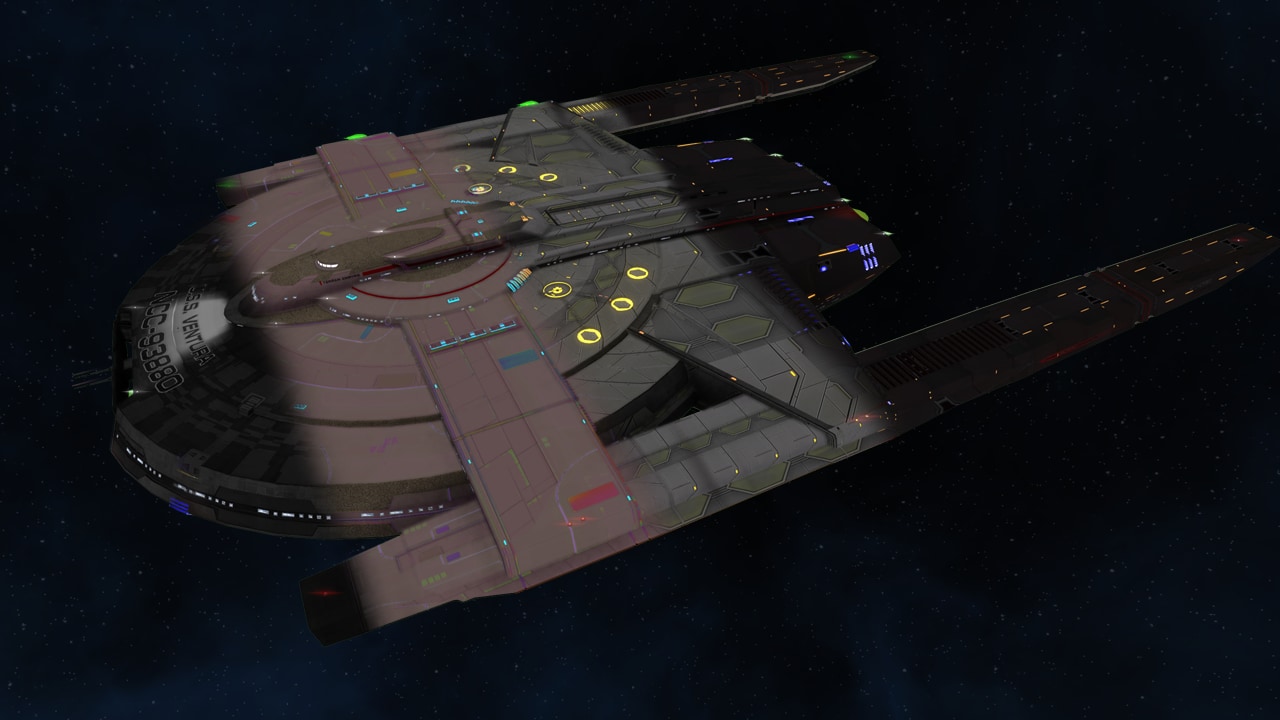 NOTE: The above stats and systems are subject to change.
Jette "CrypticSpartan" Leavens
Systems Designer
Star Trek Online
https://www.arcgames.com/en/games/star- ... l/11018513
_________________
Capt. JJJH Schimdt
Engineering Division Alpha Team
UFP 12th Fleet
USS Lusitania NCC-93015 Nebula Class
Patrolling
Infected/Cleared, Cure/Cleared, Kithomer Accord/Cleared, Terradome/Cleared
Foundry FED: Player Concept Housing*, Great Raid (part 1), Training Ground 2.0, Ultimate Deathmatch, Redshirt Zombie, All Hallows Eve

*Down for Repairs